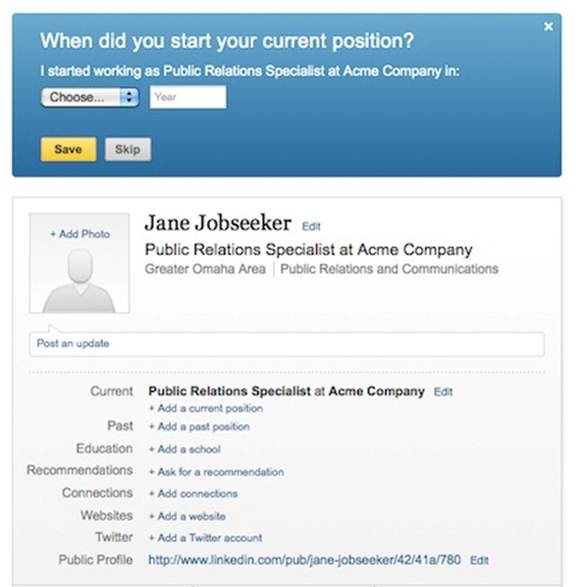 Small branding statements can bring some interest to potential employers if you put the time in.
Right now, go to this article and read Pete Leibman's (@PeteLeibman) article, "Is Your LinkedIn Headline Killing Your Personal Brand"on Dan Schwabel's Personal Branding Blog. Pete, like other career experts, have made it clear that this is a key part of a functional LinkedIn profile, and makes your profile more attractive to lurking employers and recruiters. If his name sounds familiar, I reviewed his book last March and published his interview with me last April. Your LinkedIn headline is the first thing people use to decide to read on. That's why it must be eye-catching and interesting. It's critical.
In short, Pete offers this formula for a great LinkedIn headline:
"Step 1: Say WHAT you are.
Step 2: Say WHO you help.
Step 3: Say HOW you make their life/work better.
Step 4: Give PROOF that you are credible. "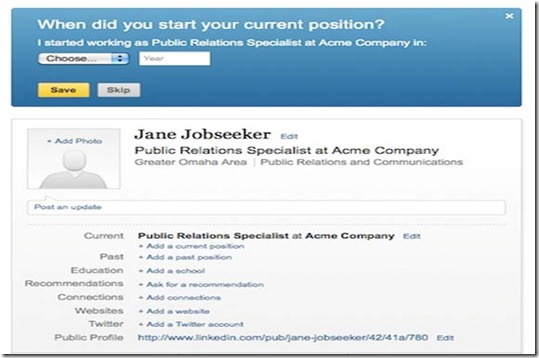 "Public Relations Specialist…" is BORING and says nothing! Leibman's suggestion is much more functional. I would suggest to Jane Jobseeker this:
Public Relations Specialist increased media visibility for the Acme Company from 20,000 to 40,000 newsletter subscribers
This fits perfectly into the 120 character limit requirement with spaces!
There are a few other philosophies out there, but this is an interesting approach that would help you stand out. You are accomplishing several things:
1) You are stating your purpose. When potential business partners/employers look at your profile they understand your career direction.
2) You don't have to say that you are a "problem-solver." Instead a direct approach is professional and impressive.
3) Your accomplishments are featured. Awards, recognition, expertise, and the results highlighted inspire others to read more of your profile.
People often use the space just to say who he or she is professionally. Do just that if you want to be like everyone else. Again, approach this space as a way to sell yourself, and stand out. It will take some time to tweak and re-write but your profile will get a few more looks if you take the time to create an effective profile.
Keep in mind that you have 120 characters in that space. How does your headline look now? Comment below.
I am the "The Voice of Job Seekers!" I offer compassionate career and job search advice as I hack and re-imagine the job search process. You need to be "the prescription to an employer's job description." You must be solution-oriented and work in positions in companies where you are the remedy. Your job search must be a lifestyle, and your career must be in front of you constantly. You can no longer shed your aspirations at the change seasons. There are strengths you have that need constant use and development. Be sure you sign up to download my E-Book, "421 Modern Job Search Tips 2021!" You can find my career advice and work in media outlets such as Forbes, Inc., Fast Company, Harvard Business Review, Glassdoor, and many other outlets.