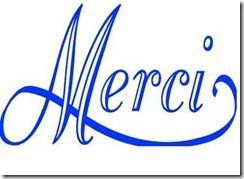 Thank You notes are still a powerful statement. It's so powerful, it still offers the employer the final statement: Hire me.
Not every recruiter and employer cherishes these gestures as gold, but so many hiring influences do, I cannot resist the opportunity to suggest this as a sound strategy. When I hired people in the Association world, almost every candidate that sent in a thank you note was considered a serious candidate after round one of interviews. It doesn't guarantee the hire, but it earns attention.
The recent
study by Accountemps
positively show that it is helpful to send one. Most of my collegues agree that they coach, at least on some level, to send at minimum an email. Handwritten notes in my practitioner experience is an unfair advantage.
Please remember, a doesn't make a weak candidate stronger, but it makes a strong candidate memorable.
I had two clients that called me within an hour of each other…while I was on vacation. Now I didn't mind answering the calls because both were very close to getting offers (so I thought). Both ladies had final interviews and one was my referral to a friend who trusted my reference. Although they had completely different career paths, both were very qualified for their respective positions.
Both had called and told me that they haven't heard anything in three weeks. I asked them in separate calls, remember within an hour of each other, "Did you send a 'Thank You' note?"
Both replied no. I urged both of them to hand write a thank you note and hand deliver it to her potential employer. One woman drove down in traffic hour with baby in tow and hand delivered it to the person that interviewed her.
The other, who was practically hired by just showing up, did not hand deliver or send a thank you note. She could have whispered thank you and would have got the job. But she did not receive an offer.
Thank you notes  are thoughtful but expected gesture states you care, you're interested, and grateful for the opportunity. It also said that you were listening and you learned something. Although it is not a guarantee you'll receive an offer, you'll definitely be remembered. Here are some helpful tips in writing a thank you note.
1) Please send the thank you email
We cannot exclude this step. This should be done the same day that you interviewed along with a few points that you learned from the interviewer(s). Oh yeah, be sure you thank each person who participated in the interview include would-be-peers-and-colleagues.
2) A card with a written note is awesome
A simple card that allows you to show gratitude and one thing you learned from the interview is sufficient. It is not appropriate to give a gift card or any type of gratis.
3) Hand  Deliver
Hand deliver whenever possible within 24-48 hours after the interview. You will be memorable and seem thoughtful when it's done this period. Personally delivering it also gives you one more opportunity to make an impression and seal the deal. Besides, it is no guarantee that the post office will deliver local correspondence within 72 hours these days. Hand deliver is the guarantee your thank you note or letter timely reaches the destination.
4) Expand on the "Thanks for the opportunity" line
The final interview isn't always guaranteed to be the best one. The client that won the job was actually told that they were close to hiring…the other candidate. My client came across so teachable and humble in her letter, they decided to create a position for her.
5) Be grateful in spite of pessimism 
Don't expect that the final interview is the welcoming party. Before deploying the thank you card strategy be genuinely grateful for the final interview. You may be tempted to just send an email like everyone else does. DON'T DO IT. You would be missing an opportunity to impress.
6) Print 
This is to ensure that your letter or note is read. Spelling and grammar are essential, and yes, it will cost you time and effort (not to mention a couple of drafts). I would even suggest you do not send out any correspondence with white out or  words crossed out if possible. Just think about the quality of work product you want to be known to produce and show that through the note.
7) OK, so you must mail it
Write the note on the card and mail it while you are locally in that zone if you are only a few blocks away. Don't forget to put the appropriate stamp on envelope.
You will not have sinned if you only send a thank-you email. If you are giving yourself every chance possible why not send a written note. Letter, card, hand written or typed, be memorable. Just think about how a hand written thank you note would impact your day. The person spent time in this digital age to hand pick a card, used a pen to write a thoughtful note, and delivered it to you.
How would a thank you note make you feel if you were making a hiring decision? Please share your thoughts with us.
I am the "The Voice of Job Seekers!" I offer compassionate career and job search advice as I hack and re-imagine the job search process. You need to be "the prescription to an employer's job description." You must be solution-oriented and work in positions in companies where you are the remedy. Your job search must be a lifestyle, and your career must be in front of you constantly. You can no longer shed your aspirations at the change seasons. There are strengths you have that need constant use and development. Be sure you sign up to download my E-Book, "421 Modern Job Search Tips 2021!" You can find my career advice and work in media outlets such as Forbes, Inc., Fast Company, Harvard Business Review, Glassdoor, and many other outlets.