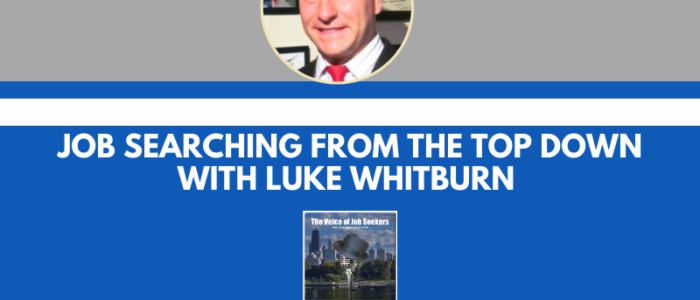 Podcast: Play in new window | Download | Embed
Subscribe: Apple Podcasts | RSS
This week, Luke Whitburn offers his strategy to not only talk to hiring managers without first submitting a resume but how he builds those relationships to get job offers. Yes, this is networking from the top down. You start with leaders and get referred to the right person. This would be useful to those who are tired of constantly pressing the "apply" button. This advice is for the bold and confident.
You'll also hear a portion of a conversation I had with Damian Birkel and Sonal Bahl on the live stream show, "The Modern Job Search Checklist."
You are more than welcome to join the discussion. Here are three ways you can:
– Call and leave a voicemail at 708-365-9822, or text your comments to the same number
– Go to TheVoiceofJobSeekers.com, press the "Send Voicemail" button on the right side of your screen and leave a message
– Send email feedback to mark@thevoiceofjobseekers.com
More about Luke: 
Luke Whitburn has been a leader and executive in several staffing organizations in the last 20 years. He and I talk several times a year and often bounce ideas off of me. I have asked him to come on the podcast several times in the last six years because of his unique perspective on the job search. If you're tired of the "grind" of the application process online, you'll find lots of value in our conversation.
Conversation highlights:
Luke's approach, as he explains, is a little bit more aggressive, but it gets results
You can't take rejection personally
He's worked and coached people to use this approach–but it works
"I think at the end of the day is a reiterate it's about stepping up and an approach that's proactive forward-leaning. This mindset of clicking apply and just waiting you're going to, you're going to get so frustrated."
"It's having that time to share your story with them and why you like their company and what you're passionate about, how that aligns with your back. Or aligns with a pivot you're doing, so that's my encouragement to everyone."
Research or "due diligence" is critical.
Luke shares a recent story about he was hired at his latest job
I will publish a transcript of our conversation on Thursday. Join us in two weeks for an extended version of the show.
I am the "The Voice of Job Seekers!" I offer compassionate career and job search advice as I hack and re-imagine the job search process. You need to be "the prescription to an employer's job description." You must be solution-oriented and work in positions in companies where you are the remedy. Your job search must be a lifestyle, and your career must be in front of you constantly. You can no longer shed your aspirations at the change seasons. There are strengths you have that need constant use and development. Be sure you sign up to download my E-Book, "421 Modern Job Search Tips 2021!" You can find my career advice and work in media outlets such as Forbes, Inc., Fast Company, Harvard Business Review, Glassdoor, and many other outlets.