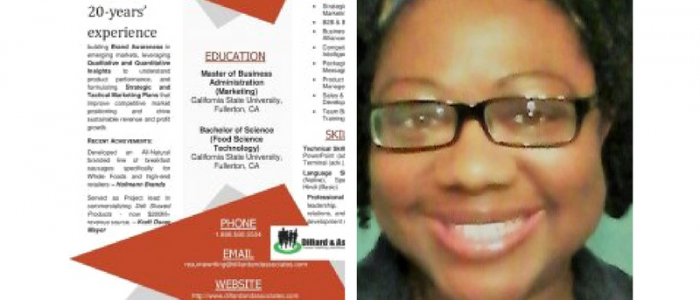 Podcast: Play in new window | Download | Embed
Subscribe: Apple Podcasts | RSS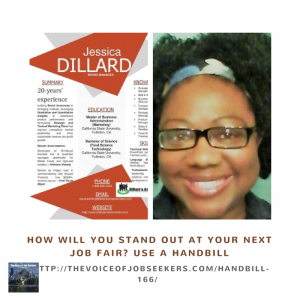 Everyone usually has one goal attending a networking event or a job fair: To meet the right person to get the next step. So, use a handbill!
In this episode, I discuss with Jessica Dillard, the founder of Dillard and Associates an old school solution to a current problem. Yes, business cards are a must if you wish to differentiate yourself from others, but a handbill will place your contributions and potential at the top of mind.
How do you stand out at job fairs and networking events? Let's discuss! You can do this in three ways:
Call and leave a voicemail at 708-365-9822, or text your comments to the same number
Go to TheVoiceofJobSeekers.com, press the "Send Voicemail" button on the right side of your screen and leave a message
Send email feedback to mark@thevoiceofjobseekers.com
Dillard & Associates 
is a National Career Staffing and Resume Writing Firm and has worked with thousands of job seekers. I first met Jessica in 2014 when she joined my newsletter list a few years back. She has been listening to the podcast, and from time to time conversate on social media. She created her firm in 1997 and possessed awards throughout her 20+ years in business.
This episode was inspired by a Facebook discussion first lead to an article on the blog, and now sharing it with you. A handbill is simply a single page marketing document offered as a snapshot of someone's career highlights. It looks like a mini-resume.
We discussed the following:
Jessica's team handbills to their client's portfolio to distribute during networking events, job fairs, etc.
More clients are now using them along with networking letters to encourage the call from recruiters
The handbill still has to answer the #1 question, "Does this candidate possess the knowledge, skills, and abilities to do the job in question?" Her team is gathering data and hoping for positive outcomes.
Do you need coaching or instruction?
I am here for it! Use my contact information above to inquire about individual or group coaching. You can also sign up for my weekly newsletter at the top of my page.
My name is Mark Anthony Dyson, and I am the Founder of The Voice of Job Seekers. I am a career advice writer, but more importantly, I hack and re-imagine the job search process.. I've worked with hundreds of job seekers one-on-one helping them to construct a narrative and strategy that appeals to hiring managers and recruiters. I present at colleges and organizations, and facilitated many workshops including my volunteer effort through a Job Lab. I write and create useful job search content on this blog and write career and workplace advice for blogs such as Glassdoor, Payscale, Job-Hunt.org, Prezi and more. Media Feature highlights: Forbes, Business Insider, NBC News, Glassdoor, LinkedIn's #GetHired, and NPR Freelance writer and content contributor: Glassdoor, Payscale, job-hunt.org, The Financial Diet, RippleMatch.com and more. Contact me to contribute career, job search, or workplace advice for your site at markanthonydyson@gmail.com.