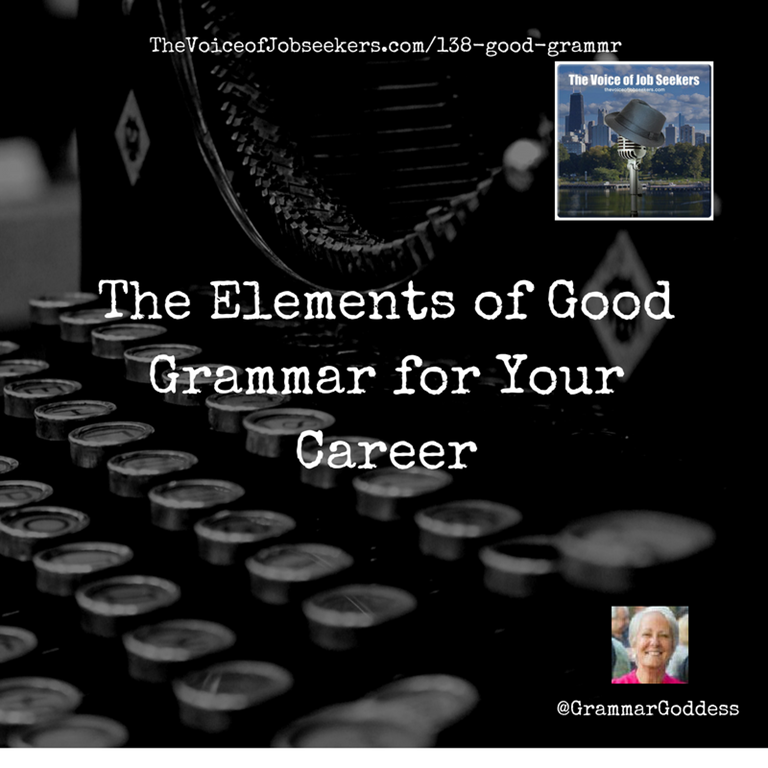 Podcast: Play in new window | Download | Embed
Subscribe: Apple Podcasts | RSS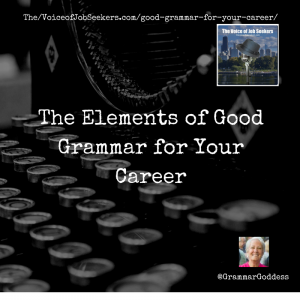 Some career organizations are celebrating, " International Update Your Resume Month," and good grammar is essential for your career.  Since resumes are one of many documents needed for your career success, I thought this was a good time for a show on grammar. Emails, business letters of kinds, and social media updates require correct grammar.
Today's guest is Susan Rooks, aka "The Grammar Goddess." Susan has taught business writing in many countries including the United States and on many other subjects. Susan executes a straight-forward approach to teaching and training others on grammar. She will also tell you she does not know every English grammar rule in existence.
How do you feel about the importance of grammar? Let me know what you think:
Call and leave a voicemail at 708-365-9822, or text your comments to the same number
Go to TheVoiceofJobSeekers.com, press the "Send Voicemail" button on the right side of your screen and leave a message
Send email feedback to mark@thevoiceofjobseekers.com
Susan Rooks is a Business Communications Coach, copyeditor, proofreader, and blogger. For the last 20 years, she has worked as a corporate trainer nationally and internationally. She says, "To help business professionals look and sound as smart as they are. When they look smart, their company does too."
Some of the highlights of our discussion:
–Grammar is considered by most unnecessary to consider on social media

–You never know who is looking and scrutinizing, we do judge

–Punctuation helps and gives us structure

–We discuss the differences between active and passive voice. Passive voice is often wordier

–Passive voice can also mislead or in some instances "save face."

–We discuss the importance of the Oxford comma (she uses it)
Need help with your career goals, directions, or efforts? Do you need coaching or instruction? I am here for it!
Also, join our Linkedin community! You'll enjoy some of the insights shared by community members and other career pros!
If you're a career pro and love giving career advice, let me know. I would love to have more guest writers during my hiatus and beyond. Thanks for being among the thousands who listen every month. There's so much more to come so stay tuned!
My name is Mark Anthony Dyson, and I am the Founder of The Voice of Job Seekers. I am a career advice writer, but more importantly, I hack and re-imagine the job search process.. I've worked with hundreds of job seekers one-on-one helping them to construct a narrative and strategy that appeals to hiring managers and recruiters. I present at colleges and organizations, and facilitated many workshops including my volunteer effort through a Job Lab. I write and create useful job search content on this blog and write career and workplace advice for blogs such as Glassdoor, Payscale, Job-Hunt.org, Prezi and more. Media Feature highlights: Forbes, Business Insider, NBC News, Glassdoor, LinkedIn's #GetHired, and NPR Freelance writer and content contributor: Glassdoor, Payscale, job-hunt.org, The Financial Diet, RippleMatch.com and more. Contact me to contribute career, job search, or workplace advice for your site at markanthonydyson@gmail.com.