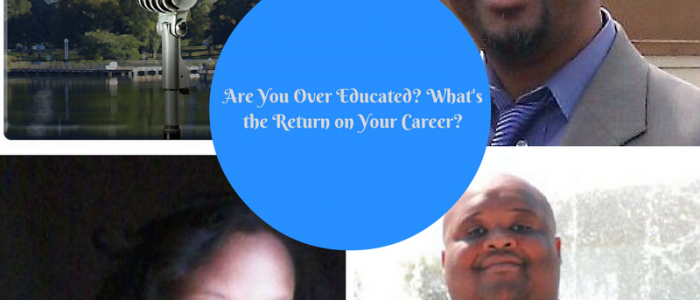 Podcast: Play in new window | Download | Embed
Subscribe: Apple Podcasts | Android | RSS
Are you looking to get another degree to help your career? Did the first one help your career at all? Once again, Janine Truitt of talentthinkinnovations.com and Chris Fields of ResumeCrusade.com joins me for a roundtable discussion. We banter about a trend where many are getting more degrees than what's valued by employers.

Call and leave a voicemail at 708-365-9822, or text your comments to the same number
Go to TheVoiceofJobSeekers.com, press "Send Voicemail" button on the right side of your screen.
Send email feedback to mark@thevoiceofjobseekers.com
Here are a few of the highlights of our discussion:
Many job seekers and career changers using education to increase his/her career marketability
We discuss how the return of investment is not what it used to be
Cited this study showing how JD and MBA's are not getting jobs immediately
Finding the balance between traditional education and skills to scale your career
We talk about how creativeness is essential to a job search
How and when do you showcase your accomplishments in the era of personal branding
Each of us shares the importance of personal branding on and offline
Using association and professional affiliations as a springboard for your career
Let me know if you like the format where Janine, Chris, and I banter about the job search. Is there a topic you like to hear more about? Let me know. I would love to hear about what you think.
Need help with your career goals, directions, or efforts?
Do you need coaching or instruction? I am here for it! If you're in Chicago, join us at our "Unconscious Bias" event on February 12. If you want to join me, send me a note at mark@thevoiceofjobseekers.com or call 708-365-9822 for more information.
My name is Mark Anthony Dyson, and I am the Founder of The Voice of Job Seekers. I am a career advice writer, but more importantly, I hack and re-imagine the job search process.. I've worked with hundreds of job seekers one-on-one helping them to construct a narrative and strategy that appeals to hiring managers and recruiters. I present at colleges and organizations, and facilitated many workshops including my volunteer effort through a Job Lab. I write and create useful job search content on this blog and write career and workplace advice for blogs such as Glassdoor, Payscale, Job-Hunt.org, Prezi and more. Media Feature highlights: Forbes, Business Insider, NBC News, Glassdoor, LinkedIn's #GetHired, and NPR Freelance writer and content contributor: Glassdoor, Payscale, job-hunt.org, The Financial Diet, RippleMatch.com and more. Contact me to contribute career, job search, or workplace advice for your site at markanthonydyson@gmail.com.