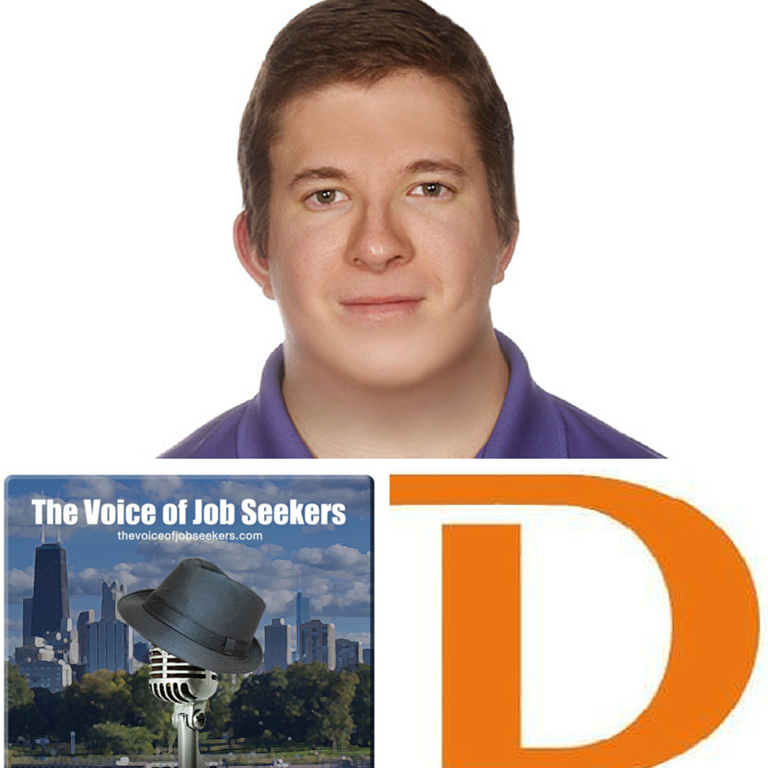 Podcast: Play in new window | Download | Embed
Subscribe: Apple Podcasts | Android | RSS

Among the people who have disengaged themselves from the job search, I have decided to talk about the differently-abled who wait very late in life to find jobs. Dylan Rafaty (@DYLANRAFATY), founder of DylanListed, LLC (DylanListed.com) and I engaged in a lengthy conversation with so much value, I consider this a special episode and one of the most important.
I am also asking you share this with someone with physical or non-visible disabilities, or a family member. I would love to hear your stories about your experiences with companies that hire and promote differently-abled people. Here's how:
1) Leave a voice mail or text message at 708-365-9822. Let me know if I can share it on future shows
2) Email me: mark@thevoiceofjobseekers.com
3) Go to TheVoiceofJobSeekers.com and press the "Send Voicemail" button to leave a message online
You can do this on your phone, right now, if you want. All of this is set up so you'll have the most convenient access possible.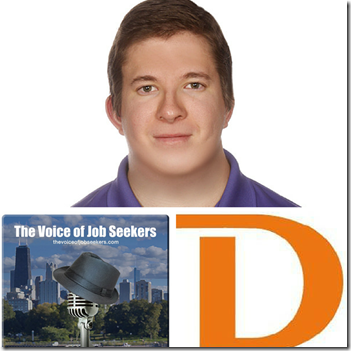 Let me tell you more about Dylan Rafaty. Dylan was inspired by Angies List to create an on and offline site of resources to help job seekers become more employable and find jobs. He also trains companies from how to find differently-abled job seekers, how to provide training for them, and creating a culture for them to thrive. He is very active in the community and is an enthusiastic advocate in educating and promoting job seekers who are challenged with disabilities.
Here are some highlights from our conversation:
Dylan has three disabilities yet, he was active and engaged in school activities
Strengths were quelled in the classroom as they didn't translate there
Dylan believes those with disabilities should learn to be heard
Community college was as equally tough for him as high school
Dylan founded DylanListed months after his self-published book, Children Should be Seen and Heard
Dylan says he wished he could go back to give teachers the tools to help his learning
Among his challenges with his physical disabilities and learning challenges, he had  emotional challenges
Through time tools have emerged to help employers to train differently abled
Differently abled often lack a pathway after high school
Some of the business ideas for his company comes from Angies List
His goal was to promote access to employees and job seekers
Dylan's extensive research even led him to pitch his idea to "Shark Tank"
Although newer start-up businesses are afraid to hire differently-abled job seekers partly due to the lack of any statistics
Companies want to know what will be their return on investment (ROI), again not enough studies to show
Employers are as equally afraid of costs of making training provisions will result in high attrition—then company culture must be addressed (being accepted and welcomed)
Are they really embracing inclusion, not just diversity?
Bank of America support services in downtown Dallas focuses hiring and training differently abled. They have a very specific and detailed training manual and program, resulting in a challenging but positive work culture
Managers are trained and engaged, answer questions and encourage career growth
Dylan shares about another employer who hires the differently-abled for her company, and how she documented a detailed process of how he or she must do her job
The results of providing a detail training manual for employees is how easily he or she adapts to the company culture. The same company is supportive of their employees to move to better opportunities even if it's outside the company
Employers are often surprised of the social benefits of working with differently-abled employees. Many managers and leaders find the interaction and collaboration rewarding
We talk about the support that Dylan has in running his company. His mother is Chief Operating Officer, and his father who owns one of the largest ice cream vendor companies in the country (400 employees), and his brother who is completing his Ph.D. at Cambridge University in London.
Dylan share the importance of family support of job seekers
Need help with your career goals, directions, or efforts? Do you need coaching or instruction? I am here for it!Also, join our Linkedin community! You'll enjoy some of the insights shared by community members and other career pros!
I would still like to help self-published career professionals promote their books. If you're interested, find more info here.
For the first time in 1 1/2 years, I am opening to career professionals to write guest articles. If you're interested, you can go here for further topics and directions to submit.
I am the "The Voice of Job Seekers," career consultant, job seeker advocate, career writer, and founder of this award-winning blog. I help the employed, unemployed, underemployed, and under-appreciated find jobs using job search strategies to navigate the new job market. I aim to give a safe place online to those with different needs, cultures, and ethnicities to find their voice in the job market. Thousands have read my career advice throughout the web as I write about everything from job search strategies to the mobile job search. I have published more than 400 articles on this blog and some of the largest career sites such as Recruiter.com, YouTern, and Come Recommended. I've been quoted in major online publications such as Monster, TIME/Money, Fortune, Business Insider and MSN. FlexJobs, JobMonkey, Aerotek, Career Pivot, and CareerSherpa listed my podcast as one of the top podcasts to help your job search. Love for you to sign up for the weekly newsletter. I share the latest articles I've written, new podcast episodes, and answer any questions you may have. The new job search is scary and if you need help, I am here for it!