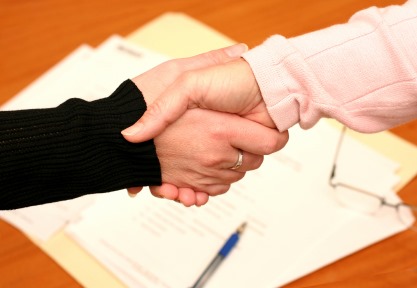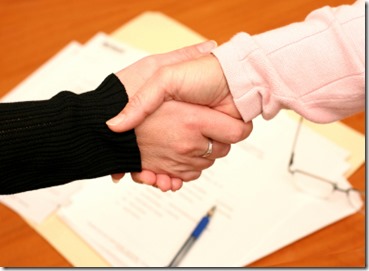 Editor's Note: Today's guest post is by Erik Larson. His bio is at the end of the article.
Recruiters have often seen candidates with the perfect resume fall completely flat during interviews. No matter how good your resume may look, you can only get a job by passing the interview, and fewer interview opportunities mean that you have to make the best with every interview you get. Here are some of the worst interview mistakes that you can easily avoid:
A bad handshake
First impressions often start with the three-second handshake, and recruiters can put a lot of importance on how well a candidate does it. As a result, this single moment can make or break your entire interview. Some examples of poor handshakes that can put you in a bad position from the start of an interview are:
· A limp handshake, which shows weakness or, even worse, disinterest
· Handshakes from the fingertips, which shows a hesitation to engage
· An overpowering handshake, with shows questionable sincerity and overt aggression
Such mistakes can be committed by seasoned professionals too, so do not take your handshake attitude lightly.
Talkativeness
Recruiters may not take too kindly to talkative candidates. Such candidates can include:
· Giving long answers to direct and simple questions. It can indicate an inability to get to the point quickly
· Nervous talking, which can make recruiters think the candidate is hiding something or lying
Make sure that you answer interview questions directly to prevent such behavior. If you are nervous, practice before you go for an interview to calm your nerves.
Negative comments about past employers/manager/jobs
One of the most common mistakes committed by applicants during interviews is to talk bad about their current or old bosses or jobs. It does not matter if you were wrong or right, you will always look disrespectful in the eyes of a recruiter when you make such comments. Recruiters will mostly assume that you will talk negatively about their own company or managers in the future.
Coming for an interview too early or late
Every job applicant knows that the first step toward succeeding in an interview is to turn up on time. Coming late for an interview is inexcusable, but you can also trigger apprehensions from your recruiter if you come earlier than 10 minutes before an interview. This will show that you have lots of time on hand, and that you are desperate for the job. The idea is to show your interviewer that your time is as precious to you as the interviewer's time, and to avoid losing your dignity.
Talking rudely to the receptionist
The first person you see when you appear for an interview is not the interviewer, but the receptionist at the office. Therefore, your first impression has to start right from the receptionist's desk. Do not forget that the receptionist ushers you into your interview, and may hold power to introduce you in a positive or negative light.
Asking about salary, vacations/holidays, and work benefits
All three of these questions should be asked only after you have been confirmed for the job. Car salesmen do not ask for your credit report before letting you test drive a car, and the same principle applies here as well. Recruiters may have second thoughts about your competency and suitability for a job if you pop these questions too early.
Appearing for an interview unprepared
Most recruiters can easily find out if a candidate is not prepared for an interview, and they usually give up on such candidates without second thought. No matter how many interviews you attend, the signs can easily be picked up by recruiters. To avoid this mistake, make sure to conduct a pre-interview research on the company. Ask reasonable questions about the company, which simultaneously show that you have done your research.
Lack of/excessive eye contact
Both extremes can trigger negative reactions in the recruiter. A lack of eye contact can make you seem untrustworthy and disinterested, while excessive eye contact can wear out the interviewer. To avoid this issue, practice making eye contact with a friend before the interview.
Conflicting communication styles
First impressions aside, the key to successful interviews is effective communication with the interviewer. You can improve your communication with an interviewer by matching his or her style appropriately. Some examples are given below:
· Maintain concise and business-like communication with interviewers who are all business. Do not try to loosen up the conversation with a story or a joke
· Discuss the interviewer's interests if he or she is personable, but to a limit. You can find clues to interests by a quick glance at office items
· No matter what the interviewer's style is, answer direct questions in a direct way. If you want more information, ask for it as a follow up
You can improve your chances of meeting the communication style of an interviewer by allowing him or her to set the conversation tone.
Erik Larson is a master's level career counselor and an internationally certified as a Career Management Practitioner (CMP) by the Institute for Career Certification International. He was also recognized as a National Certified Counselor (NCC) through the National Board for Certified Counselors. You can check out his site at ResumeIndex.com.
I am the "The Voice of Job Seekers!" I offer compassionate career and job search advice as I hack and re-imagine the job search process. You need to be "the prescription to an employer's job description." You must be solution-oriented and work in positions in companies where you are the remedy. Your job search must be a lifestyle, and your career must be in front of you constantly. You can no longer shed your aspirations at the change seasons. There are strengths you have that need constant use and development. Be sure you sign up to download my E-Book, "421 Modern Job Search Tips 2021!" You can find my career advice and work in media outlets such as Forbes, Inc., Fast Company, Harvard Business Review, Glassdoor, and many other outlets.