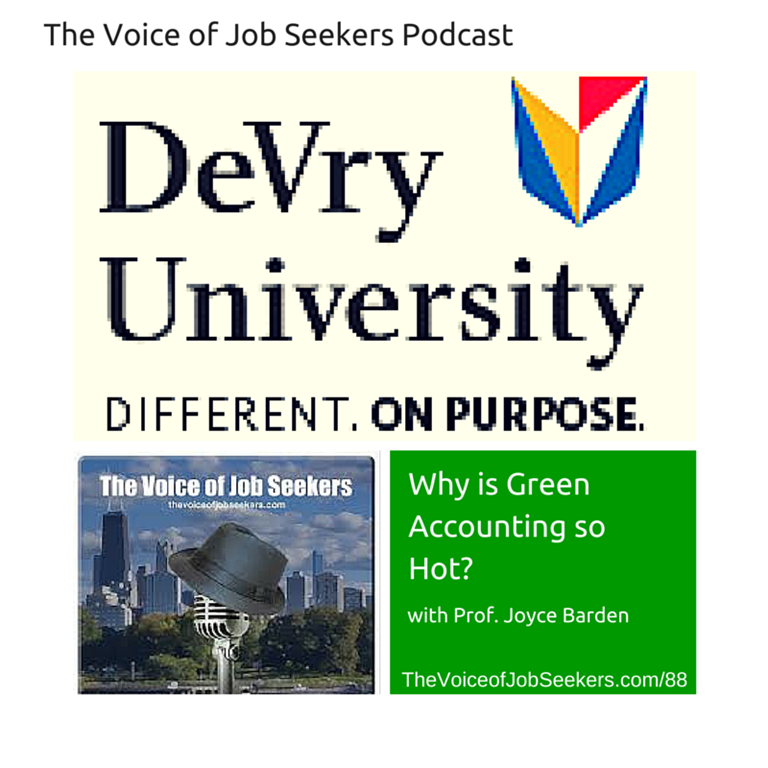 Podcast: Play in new window | Download | Embed
Subscribe: Apple Podcasts | Android | RSS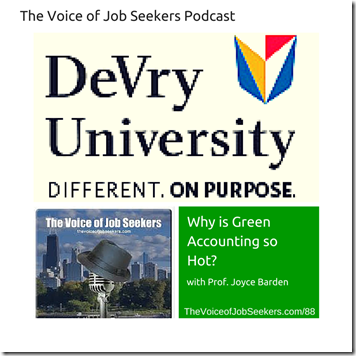 If you're interested in having an impact on the environment, and you like accounting, maybe green accounting careers are interesting enough for some of you.
The show today is another collaboration with DeVry University (@devryuniv) to broaden your future career options. My guest is Professor Joyce Barden, CPA, who teaches at DeVry University and the Keller Graduate School of Management in Phoenix, Arizona. Thanks again to DeVry University for choose this podcast to promote green accounting careers!
I  would love to know if green accounting would be a major you would seriously consider? Here's how you can share that with me:
1) Leave a voice mail or text message at 708-365-9822. Let me know if I can share it on future shows
2) Email me: mark@thevoiceofjobseekers.com
3) Go to TheVoiceofJobSeekers.com and press the "Send Voicemail" button to leave a message online
As always, career professionals that leave feedback please let me know if it's OK to read your responses during the show, and I will include a link in the show notes to your site.
Here are some highlights of our conversation:
Professor Barden explains the differences between traditional accounting (she calls it the language of business) and green accounting
Those aspiring to green accountant careers must advise his or her clients or employers on sustainability and the environmental impact of what their decisions are based on
Green accounting careers are likely to be found where the sun prominently appears like Arizona, California, and New Mexico
Green accountant specialists work with a wide range of teams and team members just like most accountants
Cost reduction as it impacts the environment is a main focus of the job
Students with a desire for  green accounting careers must offer value to employers, able to advise employers or clients how to be environmental effective, and not just a number cruncher. Successful job candidate needs to approach potential employers as a consultant and business advisor
State governments and fraud and forensics agencies could be a great source for internships  and green accounting careers
Professor Barden recommends working part-time at first
Adaptability, flexibility, and writing are in-demand soft skills, ones that CEO's are demanding
Companies are looking for diversity, consider the role and skills companies want. Can you solve the puzzle since there are so many collaborative partners, and put together input from everyone?
Employers looking for candidates in green accounting careers want to see more passion with the value he or she brings to the table. The successful candidate has to "run their own race."
Have you subscribed to this show on iTunes? If you haven't, please do so. iTunes is a great place to write an honest review, and increase the show's visibility. Enjoy listening to the show. Let us know what you think.
Do you need help with resume writing or career direction? Do you need coaching or instruction?I can help.
Also, join our Linkedin community! You'll enjoy some of the insights shared by community members and other career pros!
My name is Mark Anthony Dyson, and I am the Founder of The Voice of Job Seekers. I am a career advice writer, but more importantly, I hack and re-imagine the job search process.. I've worked with hundreds of job seekers one-on-one helping them to construct a narrative and strategy that appeals to hiring managers and recruiters. I present at colleges and organizations, and facilitated many workshops including my volunteer effort through a Job Lab. I write and create useful job search content on this blog and write career and workplace advice for blogs such as Glassdoor, Payscale, Job-Hunt.org, Prezi and more. Media Feature highlights: Forbes, Business Insider, NBC News, Glassdoor, LinkedIn's #GetHired, and NPR Freelance writer and content contributor: Glassdoor, Payscale, job-hunt.org, The Financial Diet, RippleMatch.com and more. Contact me to contribute career, job search, or workplace advice for your site at markanthonydyson@gmail.com.