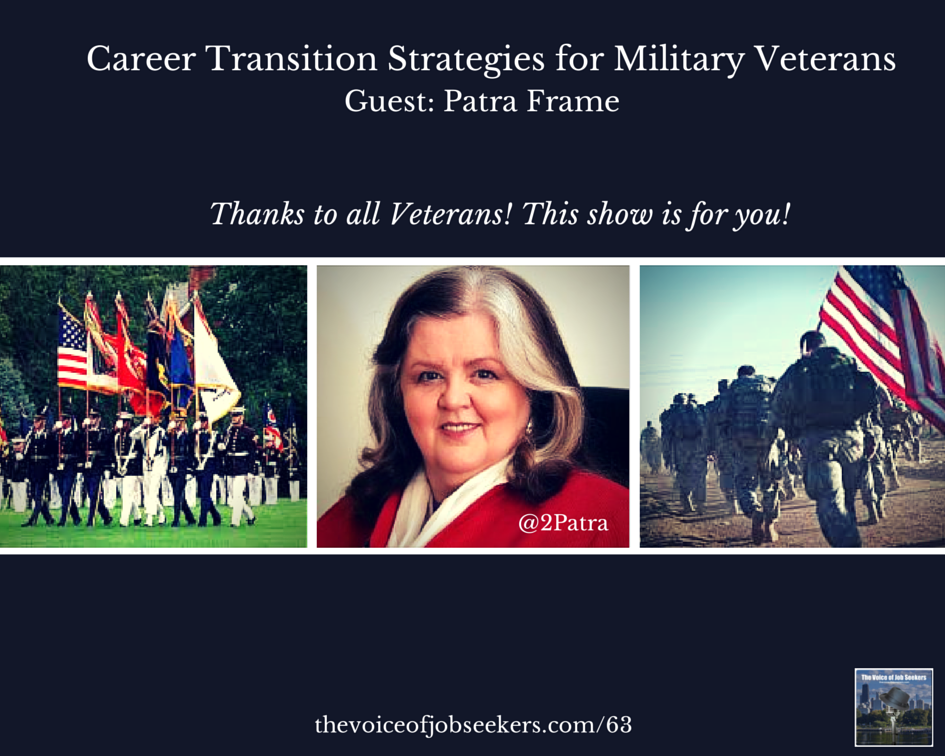 Podcast: Play in new window | Download | Embed
Subscribe: Apple Podcasts | RSS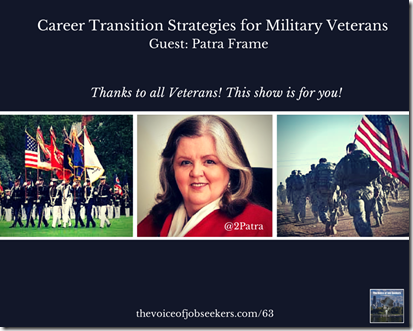 This Veterans Day episode is dedicated to all of you who served our country. We thank you because you sacrificed your comfort, family, and yourselves to make sure that the rest of America can enjoy their freedom that we often take for granted.
The transition back to civilian life is not an easy task. For many veterans, transitioning back to the civilian job market is a nightmare. Are you a military veteran challenged by the competition or the lack of career resources? What is the toughest part of your career transition from serving to civilian?
There are three ways you can let me know:

Blog: TheVoiceofJobSeekers.com (Use the send voicemail feature)

Email: mark@thevoiceofjobseekers.com

Voicemail: 708.365.9822
My guest today is Patricia Frame (@2Patra). As an Air Force Veteran herself has extensive experience as a Human Resource expert. She has trained more than 1,800 hiring managers in effective hiring and talent management processes and actions. She was recommended as a guest from Susan P. Joyce, a guest back from late summer. Patricia is the founder of PatraFrame.com and Veterans' job expert at job-hunt.org.
Here are a few of the highlights from our conversation:
One of the differences from past military transitions is now career training is provided for all Veterans' before leaving the military. The bad side that too many Veterans wait for the training and not doing anything for their job search before instruction begins
Patricia noted that many Veterans' miss the intense camaraderie they experienced through combat making it hard to transition back to civilian life. Very few civilian workplaces can replicate the teamwork a Veteran experienced before leaving
One of the common mistakes Veterans' make on LinkedIn is posting their military pictures. She said that is an indication that they are not ready for a career transition back to the civilian world. Employers also pick that up all because a soldier wants people to see their "fruit salad (military ribbons and décor)" and rank
Patricia stated that people need to think of their LinkedIn profile as an advertisement. For example putting "Retired" sends the wrong message to recruiters and employers. We agreed that a common error among Veterans' is not speaking the language of civilian employers
Don't forget the importance of showcasing soft skills and achievements through writing and speaking, especially when the job you performed was classified
Resources mentioned:
Type "Troops to…" in the Google search engine filled by the profession you desire will populate with many choices (many of them free). Training is often sponsored by companies and trade associations
Microsoft (free training available)
SAP (Veterans to Work program)
General ElectricSyracuse University for Veterans and Military Families
Veterans Tuition Credit Program
American Corporate Partners (mentoring and career advice)
Next week I will have a PDF with additional resources to find listings, programs, and directories to help those veterans that need additional help! Email me at mark@thevoiceofjobseekers.com to be put on the list.
Have a great week!
My name is Mark Anthony Dyson, and I am the Founder of The Voice of Job Seekers. I am a career advice writer, but more importantly, I hack and re-imagine the job search process.. I've worked with hundreds of job seekers one-on-one helping them to construct a narrative and strategy that appeals to hiring managers and recruiters. I present at colleges and organizations, and facilitated many workshops including my volunteer effort through a Job Lab. I write and create useful job search content on this blog and write career and workplace advice for blogs such as Glassdoor, Payscale, Job-Hunt.org, Prezi and more. Media Feature highlights: Forbes, Business Insider, NBC News, Glassdoor, LinkedIn's #GetHired, and NPR Freelance writer and content contributor: Glassdoor, Payscale, job-hunt.org, The Financial Diet, RippleMatch.com and more. Contact me to contribute career, job search, or workplace advice for your site at markanthonydyson@gmail.com.