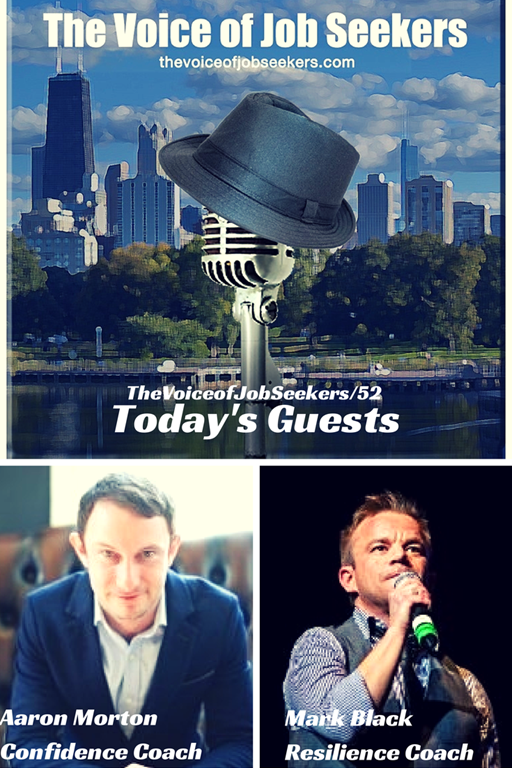 Podcast: Play in new window | Download | Embed
Subscribe: Apple Podcasts | Android | RSS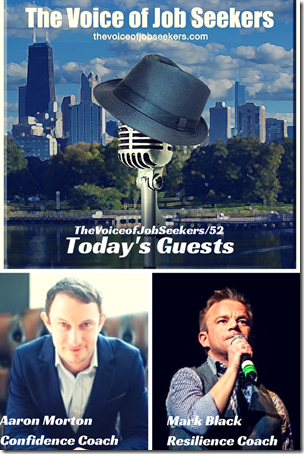 Without confidence and resilience in your job search, people will wonder and wander. You got it. You must show it. If you lack these two vital attributes, or if you need reassurance, this is the episode for you.
If you would like to provide feedback such as how liked or disliked today's show, or if you want to suggest a topic or guest, please feel free by contacting me:
Email: mark [at] thevoiceofjobseekers.com

Blog: The VoiceofJobSeekers[dot]com

Phone: 708.365.9822
This week's show is going to infuse your job search showing you are the right candidate! Let me introduce you to our guests this week:
At 2:18…
Aaron Morton (@aaron_morton) is a confidence coach, and founder of The Confidence Lounge. He has a diverse background in counseling, behavioral therapy, and as a personal trainer. He helps his clients increase their confidence so you can get more out of what they want.
Here are highlights from our discussion:
Confidence is a major part of sealing the deal. Competence is a part of the hiring decision, and so is confidence as a major factor
Confidence also brings a diversity to your job search portfolio
Aaron describes confidence as a two-pronged approach: How you consider you experience up to the moment and the level of certainty of what life throws at you
He also stated that confidence is affected because of the amount of rejection he or she experienced
Many job seekers do not apply for jobs as avoidance associated with rejection
I asked Aaron to explain durability as he did in a YouTube video – as he stated, there is a difference between strong and durable
At 23:57…
I never heard of a resilience coach before I met Mark Black. When I read his story, it made sense. He teaches people how to become and remain resilient. We all need this and especially those who are conducting job searches. I can almost guarantee that employers would love to hire a resilient individual.
Mark Black (@MarkBlackSpeaks) is founder of MarkBlackSpeaks.com, and an international speaker who shares his story of how he endured physical battles (even one near death) to eventually run marathons. I will save what he shares for you to listen from his mouth. Here are the other highlights from our conversation:
Mark explained he experienced going through the stages of death, eventually he became content with what will happen and make the best of his situation
He started speaking at a high school graduation, and was unprepared when someone asked for a business card
While building his business, he spent seven years as a substitute teacher (I did it for four years)
First attribute of resilience is acceptance – Don't over-dramatize situations but accept the reality as it is. Denial is destructive
Second, be adaptable. Proactive adaptation is better than being forced
Third, determination & persistence. Trying and failing multiple times is essential
Have you signed up for my e-book: Free Guide: 5 Easy Ways YOU Can Create an Amazing Online Presence? Be sure you sign up for the e-book and updates TODAY?
I am the "The Voice of Job Seekers," career consultant, job seeker advocate, career writer, and founder of this award-winning blog. I help the employed, unemployed, underemployed, and under-appreciated find jobs using job search strategies to navigate the new job market. I aim to give a safe place online to those with different needs, cultures, and ethnicities to find their voice in the job market. Thousands have read my career advice throughout the web as I write about everything from job search strategies to the mobile job search. I have published more than 400 articles on this blog and some of the largest career sites such as Recruiter.com, YouTern, and Come Recommended. I've been quoted in major online publications such as Monster, TIME/Money, Fortune, Business Insider and MSN. FlexJobs, JobMonkey, Aerotek, Career Pivot, and CareerSherpa listed my podcast as one of the top podcasts to help your job search. Love for you to sign up for the weekly newsletter. I share the latest articles I've written, new podcast episodes, and answer any questions you may have. The new job search is scary and if you need help, I am here for it!