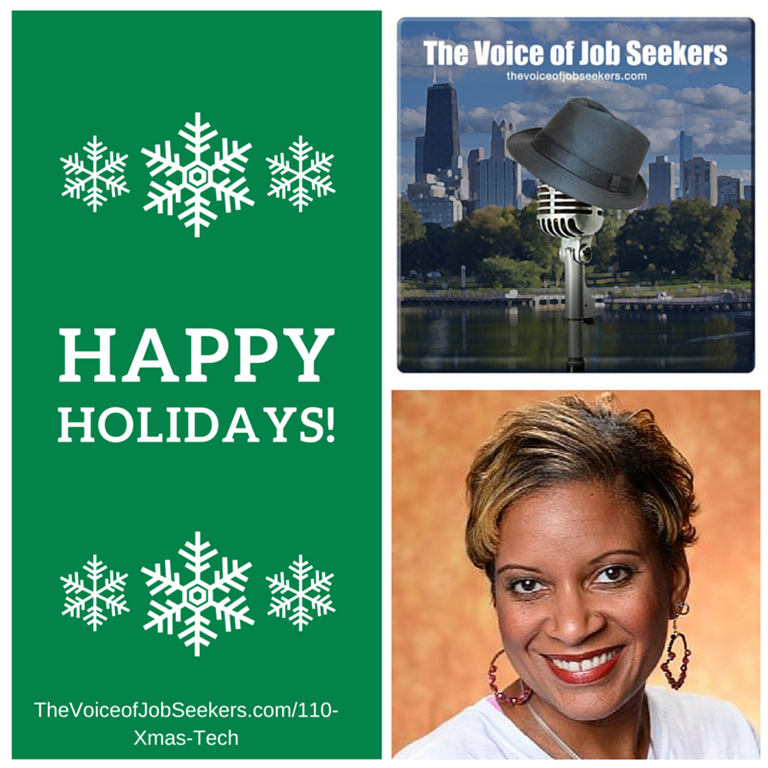 Podcast: Play in new window | Download | Embed
Subscribe: Apple Podcasts | Android | RSS
She said I made her feel important, and Kris McDonald (@littletechgirl) is quite the savvy professional when it comes to tech. This episode is a job search light episode and focused more on productivity. You want to listen to this episode if you're in-between tech usage and knowing the depth of the use of let's say a smart phone.This is a special Christmas edition of the podcast. It is also the end of this season for the show. I will be publishing new episodes on January 12, 2016. You want to subscribe to the show as we talk about salary negotiation for women (although many of the same principles we discuss will apply to all). Don't miss that episode.I would love to hear what  you think? Here's how you can let me know:
Call and leave a voicemail at 708-365-9822
Go to TheVoiceofJobSeekers.com, press the "Send Voicemail" button on the right side of your screen and leave a message
Send email feedback to mark@thevoiceofjobseekers.com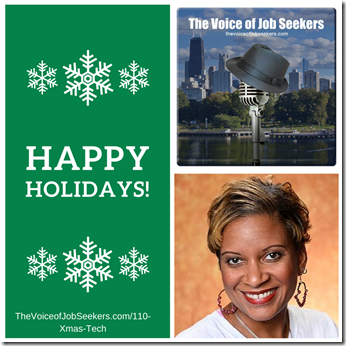 Let me tell you a little about Kris, who is a Digital Lifestyle Expert. Her press mentions include CNN, Black Enterprise, Ebony, and Huffington Post. She partners with small to large corporation clients advising on tech.
Here's a light outline of our discussion:
Smartphone usage and it's usefulness
Data usage and phone plans, Wi-Fi to save on data
Travel
Ideas on using syncing info from phone to computer, backing your info, calendar, phone numbers
Here is a link to a post about keeping your contact list no matter what phone you upgrade to
Photos syncing and software
Evernote and it's under utilization, freemium vs. premium
Fresh books use to connect to PayPal, loging travel miles and expenses
Square or PayPal if you're consulting to take debit or credit cards
Scanning receipts and documents to Dropbox
Using Neat and Epson to scan
Here is a link to a post on business efficiency written by Kris
Need help with your career goals, directions, or efforts? Do you need coaching or instruction? I am here for it!
Also, join our Linkedin community! You'll enjoy some of the insights shared by community members and other career pros!
I would still like to help self-published career professionals promote their books. If you're interested, find more info here.
Again, join me and my guests on January 12 for the special salary negotiation episode!
I am the "The Voice of Job Seekers," career consultant, job seeker advocate, career writer, and founder of this award-winning blog. I help the employed, unemployed, underemployed, and under-appreciated find jobs using job search strategies to navigate the new job market. I aim to give a safe place online to those with different needs, cultures, and ethnicities to find their voice in the job market. Thousands have read my career advice throughout the web as I write about everything from job search strategies to the mobile job search. I have published more than 400 articles on this blog and some of the largest career sites such as Recruiter.com, YouTern, and Come Recommended. I've been quoted in major online publications such as Monster, TIME/Money, Fortune, Business Insider and MSN. FlexJobs, JobMonkey, Aerotek, Career Pivot, and CareerSherpa listed my podcast as one of the top podcasts to help your job search. Love for you to sign up for the weekly newsletter. I share the latest articles I've written, new podcast episodes, and answer any questions you may have. The new job search is scary and if you need help, I am here for it!