How Can We Have an Amicable and Respectful Conversation About Unconscious Bias?
I firmly believe unconscious bias affects us all.  Racial bias hurts millions, but so does gender, affinity, and many others. I did a podcast a couple of years where we discussed how non-traditional names are often subject to bias when it's time to interview job candidates. There are extensive and thorough studies showing ethnic names are subject to more bias.
Since that time, I have researched and continue to present in writing and speaking to bring awareness. Although I do not conduct several days of training, I do a short talk to help get the unconscious bias conversation started.  More people want to know how can their company or school can start having discussions to defuse tension and bring teamwork.
On this page, I wanted to index some of my work on bringing awareness and solutions in starting productive ways to talk about unconscious bias.
Here are articles I've written on unconscious bias:
Career Pivot, 8 Ways Older Job Seekers Invite Age Unconscious Bias on Social Media
Recruiter.com, How Biases and Microaggressions Can Debilitate Job Seekers Before the Interview Even Begins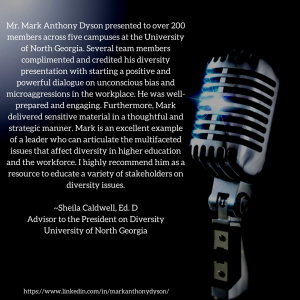 I am the "The Voice of Job Seekers," career consultant, job seeker advocate, career writer, and founder of this award-winning blog. I help the employed, unemployed, underemployed, and under-appreciated find jobs using job search strategies to navigate the new job market. I aim to give a safe place online to those with different needs, cultures, and ethnicities to find their voice in the job market. Thousands have read my career advice throughout the web as I write about everything from job search strategies to the mobile job search. I have published more than 400 articles on this blog and some of the largest career sites such as Recruiter.com, YouTern, and Come Recommended. I've been quoted in major online publications such as Monster, TIME/Money, Fortune, Business Insider and MSN. FlexJobs, JobMonkey, Aerotek, Career Pivot, and CareerSherpa listed my podcast as one of the top podcasts to help your job search. Love for you to sign up for the weekly newsletter. I share the latest articles I've written, new podcast episodes, and answer any questions you may have. The new job search is scary and if you need help, I am here for it!