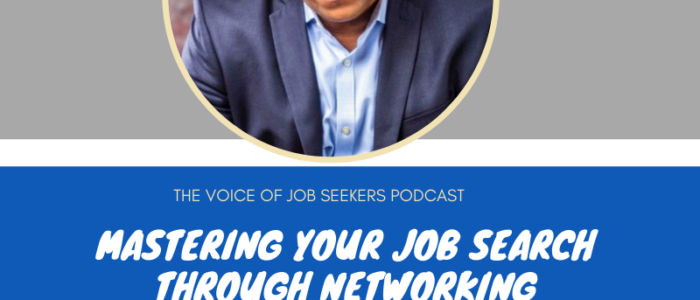 Podcast: Play in new window | Download | Embed
Subscribe: Apple Podcasts | RSS
Networking is the center of every modern job search strategy. Kenneth Johnson has been teaching this for years in his 20+ years as a recruiter, and founder of East Coast Executives, a diversity recruiting firm. We enjoyed sharing networking strategies and reminding listeners of the benefits of connecting with people.  He has mastered growing his connections to relationships—an example we all can learn from.
You can watch the entire interview on my YouTube channel.
You are more than welcome to join the discussion. Here are three ways you can:
– Call and leave a voicemail at 708-365-9822, or text your comments to the same number
– Go to TheVoiceofJobSeekers.com, press the "Send Voicemail" button on the right side of your screen and leave a message
– Send email feedback to mark@thevoiceofjobseekers.com
More about Kenneth:
Kenneth drives between New York and Philadelphia quite frequently and has vast experience working and coaching job seekers and recruiting companies. He has recently focused on helping job seekers through Indeed, Google, and the New York Urban League. He also hosts a weekly show on WPPM-FM in Philadelphia that focuses on helping local job seekers.
👉🏾Here are the highlights of our discussion:
👉🏾Each contact has meaning.
👉🏾It's up to you what they mean to you.
👉🏾Failure to offer value takes away from the relationship.
👉🏾What Kenneth does in networking to offer value.
👉🏾Why connections are NOT JUST followers and what it means to your network.
👉🏾How to make a connection with recruiters a meaningful experience.
👉🏾How to turn a connection into a potential referral.
Look out for three more episodes in the next two weeks. There will be a three-week break and then one show in December.
My name is Mark Anthony Dyson, and I am the Founder of The Voice of Job Seekers. I am a career advice writer, but more importantly, I hack and re-imagine the job search process.. I've worked with hundreds of job seekers one-on-one helping them to construct a narrative and strategy that appeals to hiring managers and recruiters. I present at colleges and organizations, and facilitated many workshops including my volunteer effort through a Job Lab. I write and create useful job search content on this blog and write career and workplace advice for blogs such as Glassdoor, Payscale, Job-Hunt.org, Prezi and more. Media Feature highlights: Forbes, Business Insider, NBC News, Glassdoor, LinkedIn's #GetHired, and NPR Freelance writer and content contributor: Glassdoor, Payscale, job-hunt.org, The Financial Diet, RippleMatch.com and more. Contact me to contribute career, job search, or workplace advice for your site at markanthonydyson@gmail.com.