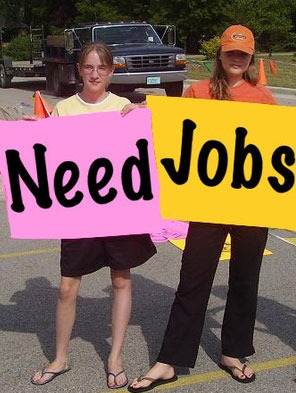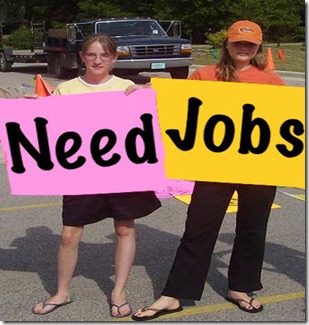 At 16, he or she is a job seeker.
Teaching preparation to our little adults is essential. Our natural instinct is to protect them from disappointment and just concentrate on school work. For a few teens, that works fine. However, a 16 year old needs to work. They need the basic job lesson: I work, therefore, I am contributing.
Rise and Grind, first school, then work. Now.
Are we really protecting our little job seekers by letting them just go to school and play sports? I don't. School work fills part of a day, and rarely the whole. Teens, I think, need to work during the school year. At worse, volunteer 10 hours a week, but teens need to do something.
Our little job seekers choose between video games, or roaming the streets.  How about working to earn school clothes money? How about volunteer work? It is not about keeping them busy. Character means much more by our teens volunteering and working.
Several studies should alarm every parent, no matter the race or culture:
During the June–July period of 2009, on average, there
were 2.063 million unemployed teens (not seasonally adjusted).15 This
pool of unemployed teens represented slightly over 26 percent of the
official civilian labor force; thus, the official unemployment rate for
teens in the June–July period was 26.3 percent, the highest summer
unemployment rate for teens in the past sixty-one years.

Sum, A., Khatiwada, I., McLaughlin, J., & Beard, A. (2010). Historically Low Teen Employment: The Case for a New Youth Jobs Program. Challenge, 53(1), 87-108

Estimated Numbers of Unemployed Teens (16–19) and Adults (20+)
and Their Unemployment Rates in June–July 2009 (in millions, two-month
averages, not seasonally adjusted)

Labor force variable                        Teens                  Adults 20+
Civilian labor force                           7,846                 145,336
Unemployed                                     2,063                 13,085
Unemployment rate                         26.3%                9.0%

Source: U.S. Bureau of Labor Statistics, The Employment Situation: July 2009 (Washington, DC, 2009).
Historically, the rate of unemployment for African-American teens is alarmingly higher than White teens. The alarm has rung annoyingly for more than 24 years. In 1998, Ebony magazine published an article by Charles Whitaker stating what many African-American leaders are bellowing now:
OUR children are in imminent danger. Millions of them are engulfed in a morass of drugs and violence and are falling in staggering numbers to some of the most virulent social ills plaguing America.

Ebony, August 1988, A Generation in Peril, by Charles Whitaker.
In the same article, he states alarming statistics about the youth in the African-American community:
The jobless rate for Black teenagers—particularly males —hovers near 40 percent,
twice that of White teenagers. Many of these youths grow up never
knowing anyone who has held a job.

Also,

A 1987 Census Bureau report cautioned that "a large number of Blacks are falling out of the mainstream of our economic life and may never find a way back in."

A Generation in Peril, by Charles Whitaker.
History, like a Sting lyric, "…will teach us nothing."
Parents can do something now. If you are against your teen working during school, that is a personal decision I can understand. The downside is they can work and go to school. My son "Boy Wonder" works and attends school, plays sports, volunteers at a local hospital and maintains a 3.0 of 4.0 grade point average. This did not happen without preparation, conversation, and all of our family's participation.
If you want little job seekers to work during the summer, start searching now. Have them dress, and meet people to make a positive impression. Teen unemployment in Illinois this summer was 26.1% as reported by Forbes magazine.
If you have done everything you can as a parent to find your 16 year old a job, then let him or her volunteer. The worst thing that could happen other than involvement in crime, is to lack purpose, and waste potential talent or a lesson in work ethic and skill. Wasted opportunities in not teaching work ethic and responsibility is the worst crime that exists. A young person could be arrested without handcuffs for years, and we may all suffer as a result.
Image: teenchokinggame.com
My name is Mark Anthony Dyson, and I am the Founder of The Voice of Job Seekers. I am a career advice writer, but more importantly, I hack and re-imagine the job search process.. I've worked with hundreds of job seekers one-on-one helping them to construct a narrative and strategy that appeals to hiring managers and recruiters. I present at colleges and organizations, and facilitated many workshops including my volunteer effort through a Job Lab. I write and create useful job search content on this blog and write career and workplace advice for blogs such as Glassdoor, Payscale, Job-Hunt.org, Prezi and more. Media Feature highlights: Forbes, Business Insider, NBC News, Glassdoor, LinkedIn's #GetHired, and NPR Freelance writer and content contributor: Glassdoor, Payscale, job-hunt.org, The Financial Diet, RippleMatch.com and more. Contact me to contribute career, job search, or workplace advice for your site at markanthonydyson@gmail.com.