I am fortunate that my career advice reaches thousands monthly through my articles and podcast. There is an audience that is looking for encouragement, answers and – at times – a little motivation to improve their job search. Everyone wants a faster, smarter, and more effective job search, right? My stories often evoke a rapid response from readers because they resonate with their career needs.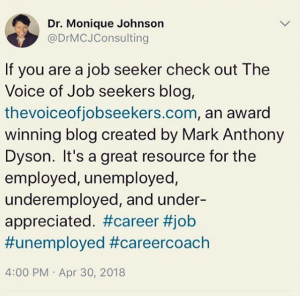 The feedback I've received from jobseekers and other career professionals has provided a powerful experience for me. Without "selling" on my part, professionals seek out my services. Influencers, experts, and career coaches alike want to connect with me and to develop collaborations in many forms. Feedback from readers also offers me a unique opportunity for ongoing conversations.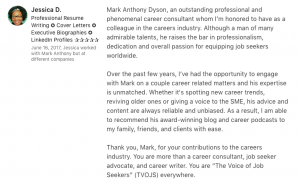 One thing is certain: professionals must remember how the great recession of 2008-2010 taught us that employers of any size could go away at any time. It's best to stay ready and to avoid spending the next nine months or more getting traction, not to mention getting hired. This message is sprinkled throughout my articles, podcasts, and conversations.
To explore my work, my online portfolio is at markadyson.contently.com.
My career highlights as a freelance writer include:
Contributed to Payscale's 2017 annual salary guide More Data, Less Worry: How to Negotiate Your Salary in 5 Easy Steps (part of Payscale's Salary Negotiation Guide)
Included in dozens of top career "blogs to follow" lists
Here is how I can help your career and job search blog or organization as a freelance writer:
Provide expert advice as a career practitioner and writer who has served thousands through articles, one-on-one consulting, and podcasts
Provide well-researched career advice content with tested information from credible sources and quotes from career experts
Articles include conversation and adequate SEO (with the understanding they will be edited for additional SEO)
Career advice content is customized to the audience you want to reach, whether college students, professionals, executives, or older workers
I am connected to hundreds of career professionals such as world-class resume writers and interview coaches, career coaches, career advisors, and salary negotiation experts
Please contact me at markanthonydyson[at]gmail.com for writing inquiries. I also offer other writing services we can discuss.
I am the "The Voice of Job Seekers!" I offer compassionate career and job search advice as I hack and re-imagine the job search process. You need to be "the prescription to an employer's job description." You must be solution-oriented and work in positions in companies where you are the remedy. Your job search must be a lifestyle, and your career must be in front of you constantly. You can no longer shed your aspirations at the change seasons. There are strengths you have that need constant use and development. Be sure you sign up to download my E-Book, "421 Modern Job Search Tips 2021!" You can find my career advice and work in media outlets such as Forbes, Inc., Fast Company, Harvard Business Review, Glassdoor, and many other outlets.