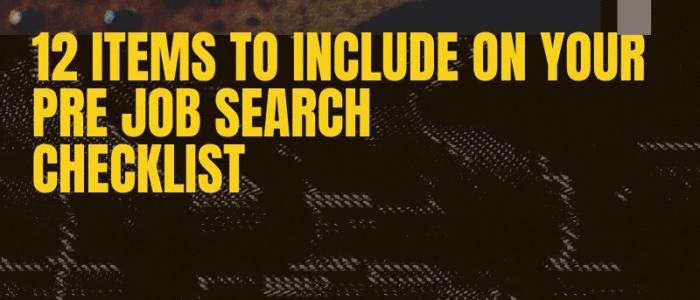 Job search usually evokes a wide range of emotions, from excitement to frustration. It may be hard to define where exactly to start. The complexity of the job search process requires an exact action plan and a considerable amount of time. According to 
CareerBuilder
, job seekers will spend an average of 11 hours a week looking for work.
 Whether you are looking for your first job, considering a significant
career change
, trying to find a better position, we want to guide you through this working tunnel step by step.
Therefore, we prepared our checklist of the fundamental steps:
Start with yourself. Aptitude diagnostics. 
Research yourself first! Whether starting a career path or fed up with their routine job, it is essential to learn about their strengths and weaknesses. For sure, you have already imagined yourself in various positions, and all of them suit you perfectly well. However, guessing is not always enough. Therefore, it would be better to 
evaluate your competency via aptitude tests 
and get hard data to consider.
Find out where your dream job resides.
Now when you are sure about the position that might fit your talents, you need to define your target company type. Find companies searching for similar specialists. Identify their industry, size, location, and even culture.
Get acquainted with the job research engines, which are the most appropriate for a position of your type. Besides, check offers on the LinkedIn platform. It is advisable to monitor the situation for several weeks to spot the overall tendencies.
Consider remote options.
Considering the present situation, many people are adjusting to the new reality by shifting to remote working options. Give at a thought. Perhaps, this is what you've wanted.
Consideration of the remote options considerably multiplies your chances of finding your dream job. To be fully prepared, look through the 
apps and software
 used for remote working. Ask yourself if you feel comfortable about time trackers, video meetings, and funding a comfortable workspace for yourself.
Clean up your social media.
HR specialists and managers often pay considerable attention to the LinkedIn profiles of the candidates. Discrepancies between a CV and a profile may cause some confusion. Unfortunately, it may result in rejection at the early stages or additional questions in the interview. Try to eliminate all the matters that add no value.
Besides, quite often, recruiters search for the candidates on such platforms as LinkedIn, thus, make sure your profile looks as good as possible.
Create a strong resume.
A strong resume that delivers your unique values is a must. Your experience, knowledge, skills, and competencies must be precise. Consider preparing several resumes tailored for different positions. Besides, we would advise you to pay specific attention to the following features:
●    Focus on accomplishments
Prioritize the content that discloses your accomplishments and unique experiences. The top 20% of your resume must address what the employer needs.
●    Mind the ATS
Resumes are often read and processed before a human decides where to place it. Consider these 
simple tricks
 that may help your resume to get read, not deleted.
Find references.
A list of professional references may be rather beneficial for your job search. It is a good idea to prepare a documented list of your references beforehand. Take your time. Think about the relationship with your previous employers, colleagues, or even teachers and advisors. Make sure you select the best people to speak on your behalf.
Get in touch with headhunters.
According to 
Forbes
 and 
LinkedIn
, between 70%  and 85% of jobs are not posted online.  Try to contact headhunters and hiring managers to learn about possible openings and even generate some interviews.
Track your job applications and follow-up.
Proper organizing and managing your application process requires control and tracking. Don't get lost in numerous opportunities, job descriptions, and application deadlines — have a separate spreadsheet containing all this information. Nowadays, there are multiple apps and software that can automate the process.
Set up some alerts to send follow-ups and thank you emails. Prepare some templates that would facilitate the process.
Salary negotiation preparation.
Be prepared for the salary question and be well-informed of your market value.  Get a realistic view of the compensation scale concerning your field.
Besides, be prepared to discuss the options. Do not be afraid. A reasonable employer will not reject your applications just because of salary negotiation.
Get a feel for the company. 
A well-prepared candidate who has a feel of the company is highly appreciated. Knowing more about the company makes you feel more comfortable.
Learn the specifics like goals, mission, policies, products, and culture.  Check the company's social media profiles and various feedbacks from reliable sources. Spending some more time for this time appears to be extremely efficient.
Make interview preparations.
While waiting for hiring managers to call you back, make some interview preparations. Make sure you will not get astonished by the interview offer. Prepare answers for the most common interview questions and think about questions you would like to ask. In case you are not well familiar with the video apps, which are often used nowadays, make some test calls and rehearsals.
Remain patient.
Finding patience during a long job search is the most challenging task of all. 
Jobvite
 experts state that the average time to fill a position was 40 days in 2018. Hiring is fastest in retail (25 days from job application to offer) and slowest in Real Estate (46 days), followed by Education and Financial Services (43 days in each industry).
Waiting too long
may be frustrating
, but you need to develop and maintain a positive attitude.  The most proactive and positive candidates usually land the best jobs.
Summary 
For many people, keeping an eye on new job opportunities is an essential part of professional development. Others face the need for job search due to career change or first employment. Despite the initial reason, the job search is complicated and tedious. Being prepared for each step will save you time and nerves.
I am the "The Voice of Job Seekers!" I offer compassionate career and job search advice as I hack and re-imagine the job search process. You need to be "the prescription to an employer's job description." You must be solution-oriented and work in positions in companies where you are the remedy. Your job search must be a lifestyle, and your career must be in front of you constantly. You can no longer shed your aspirations at the change seasons. There are strengths you have that need constant use and development. Be sure you sign up to download my E-Book, "421 Modern Job Search Tips 2021!" You can find my career advice and work in media outlets such as Forbes, Inc., Fast Company, Harvard Business Review, Glassdoor, and many other outlets.