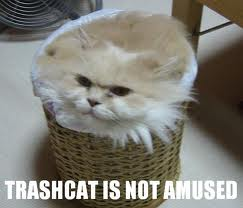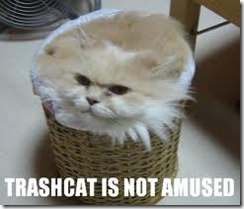 No one expects you to mourn a dead-end career search like you would a deceased pet. It is possible, and suggested, if you are burying the results to start a fresh, thought-out, aggressive search. Career searches are ongoing, even if you have a long-standing gig, and minimize gaps between jobs. A deceased pet…well…leaves memories.
Then there are people who mourn job loss like my neighbor from years ago mourned his dead cat.
Allow me to pontificate.
When his cat died (certainly not from negligence) he experienced depression for months. Yet in moments, he decided to immortalize his cat. He had his cat stuffed.
He continued his affection  for his feline friend. He stroked it ("I love you Phil Collins" or "Could you lay here, Phil Collins?"), kissed it (again, it's stuffed), and held it like a newborn baby. It remained visible in his apartment. He talked to it as if he was alive, and expected a response.
Yes, his cat,  name is Phil Collins. Something must have been in the air that day when he came up with the taxidermy idea.
You know where I'm going with this, yes, there are a few of you who treat your career search the same way my neighbor did his cat. Petting and cuddling a lack of results, refusing suggestions, and not even getting free advice from articles, blogs, or You Tube videos. Your response is, "I know what to do."
Let me count the ways you stuff your dead job search results.
The outcome is unacceptable. You can't let go of your old ways, but how long can you hold on? You lack results, and yet, you take no one's advice. You are pouring new wine into old  wine skins to find out there is a hole at the bottom. Get help.
Sentimentality is obstructing reality. If you are petting the stuffed cat, calling it by its name, and expecting a response, you are delusional, not sentimental. No one will volunteer to help if you will keep petting the stuffed cat. You do the same when you talk about your old job as if you clocked in this afternoon. Bury the dead cat, will you? Your neighbors, family, and friends are becoming more compassionate for homeless people they don't know.
You are not giving the "new" a chance. You bought new cats, but they ran away. The old dead stuffed cat is still around.  It's OK that some job search methods work and some don't. While you are moving in a new direction,   give informational interviews a chance. Give networking events another chance. Set up social networking profiles to be found. Just stop stuffing the dead cat. 
Reliving the glory days. There is an old romantic movie that had the saddest ending ever, "Somewhere In Time," starring Christopher Reeves and Jane Seymour. At the end, Christopher Reeves character zoned out for weeks (it looked like he died of a broken heart). You act like that for a day, but the reality is that your life is repairable and your dead stuffed cat isn't. It is not a default setting in your mind. You just need some hope.
Find other uses for the stuffed cat. As tempting as it is to recommend non-related reading for uses of a dead cat, similarly, use the energy to find a career you want. This is an opportunity to focus on what matters to you. You might need a new back scratcher, or a pin cushion, but what is more useful is motivation to do your best.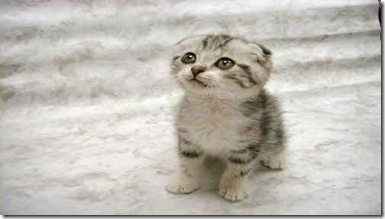 I am not suggesting the disrespect of cats everywhere, and as a lover occasionally of kitty pics, I forbid it. The point is to stop holding on to obstacles stifling your progress. What has motivated you to keep searching? Please tell me below.
The career search is a simple, and yet, a competitive process that needs and requires creativity that makes sense along with some patience. It's complex, and difficult both emotionally, and physically from day one. You can't stand out for the wrong reasons, which I encourage you to share in the comments.
If 100 people applying for the  same jobs you are shouldn't stifle your progress so keep trying .
By the way, I think the new cats left because the competition was (hehe) a little stiff. What do you think?
I am the "The Voice of Job Seekers," career consultant, job seeker advocate, career writer, and founder of this award-winning blog. I help the employed, unemployed, underemployed, and under-appreciated find jobs using job search strategies to navigate the new job market. I aim to give a safe place online to those with different needs, cultures, and ethnicities to find their voice in the job market. Thousands have read my career advice throughout the web as I write about everything from job search strategies to the mobile job search. I have published more than 400 articles on this blog and some of the largest career sites such as Recruiter.com, YouTern, and Come Recommended. I've been quoted in major online publications such as Monster, TIME/Money, Fortune, Business Insider and MSN. FlexJobs, JobMonkey, Aerotek, Career Pivot, and CareerSherpa listed my podcast as one of the top podcasts to help your job search. Love for you to sign up for the weekly newsletter. I share the latest articles I've written, new podcast episodes, and answer any questions you may have. The new job search is scary and if you need help, I am here for it!