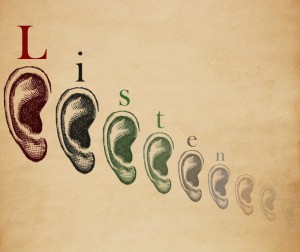 Courage is what it takes to stand up and speak, courage is also what it takes to sit down and listen ~Winston Churchill
It's likely the childish behavior you spilled over at home is dripping to an interview or work. You miss what everyone is saying until you achieve the same results and wonder what's wrong. That sticky miss has your name on it because you won't listen.
You may not talk much, but even worse, you may not listen much either.
The problem is that you don't speak your mind. You won't listen either.  That's a problem at home and work. So consider this a two for one deal. It won't take long, I promise.
First, I will say, that my wife and I train our young men to speak their mind. There's a cost, and I don't know if you want to pay it. It costs you more time. Less time if you can get them to get to the point quickly. It's less time later in their teen years when they grow integrity. It won't come out tactfully, which means more training, and more patience.
There's no punishment for speaking your mind  when everyone expects it. It's up to you to train everyone around you. You know, to be out spoken. Can you do it with self-control and tact? No? Then you can't teach someone else to do it. Unfortunately, the time spent to listen more than speak is an impediment for you. It's a debatable matter for them approaching you.
Margie Warrell, author of
  Stop Playing Safe
 says, "Speaking candidly should be balanced with listening bravely and openly. You have to be willing to step into the other person's shoes, and be open to viewing things in ways that may well conflict with how you see things."
If you don't speak up, and don't speak out, then where does your value go? Whose hero are you? Why are you keeping your super powers to yourself? Shouldn't your employer know?
If you don't listen, you won't meet the needs that only you can meet. You're dripping with sticky stuff that everyone hates stepping on. That's how annoying it is.
What's worse is that you could be hiding the gem from your spouse?
Be afraid to be right, not wrong. Have courage to be wrong, don't celebrate being right. Listen hoping you're wrong and for he or she to be right. And clean up that spill!
I am a Career Consultant, Host & Producer of "The Voice of Job Seekers podcast, and Founder of the blog by the same name. I help and inspire unemployed, underemployed, and under-appreciated job seekers by finding and creating a voice to be heard by heard employers. I see too many voice-less resumes, cover letters, LinkedIn profiles, and other attempts people attempt to market themselves. In addition to the awards, my advice has appeared in major career sites such as AOL Jobs, You Tern, CAREEREALISM, Come Recommended, and Brazen Careerist. Your Voice. Your Brand. Your next opportunity is waiting to hear from you.