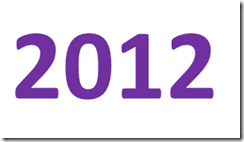 I have read a lot of career news the past two years, and shared much of it on Twitter and Google Plus, and I will be doing more of the same this year. Here are some news from 2011, although it's forgotten news for some, are good reminders to keep in mind this year.
1. Heather Huhman wrote an article in U.S. News, 11 New Websites For Your Job Search that suggested that the new boards she listed may make a small difference. A quote from the article stated, ""Job search 4.0 will be less about finding talent and finding jobs and more about applying skills to the problems existing in any marketplace," says Joel Capperella, vice president for Yoh, a Philadelphia-based technology staffing firm."
2. High school and college students are not the only ones looking for summer jobs. Teen must start looking for jobs now. The competition will be so intense, an early start ill only be an advantage. This article from recordonline, Begin Your Job Search Summer Now, offered great tips and advice on finding summer opportunities.
3. Proposed slash in retraining funds decried was an article that reminded me of the essential need for career centers. People should speak up when cuts like this are eminent in the community. We may see more of these programs reduced or dissolved.
4. Employers will continue to look for ways to exclude potential candidates in 2012 as they did last year. This report by the New York Times last year exposing companies that posted job qualifications that stated only "currently employed" should apply for positions. I strongly feel that these special qualifications come from filtered biases that are no good for this country, and our unemployment problems. You haven't already, read The Help-Wanted Sign Comes With a Frustrating Asterisk, and let me know what you think.
5. By now, career industry pundits that networking is the most effective means to find jobs. I agree that this is more than an anecdote, but more importantly, a lifestyle change. Most of us who coach and train discourage exclusive use job boards (use them, but don't rely on them). This article goes one step further to discourage "chasing after job openings."
6. I am fortunate to work with many veterans in helping their career search efforts. It was encouraging to see some hiring companies target veterans like Chase Bank. They announced last spring that they were looking to hire 100,000 military personnel and veterans. I hope Chase and others remain committed to hire the Americans who help protect our freedom.
7. Job AOL published, 10 Free Government Resources for the Unemployed last January the first time I heard of 2-1-1 (211us.org). This line allows for people to offer help with food and life resources, and to receive help. Feel free to pass this along as all of us know people who need help.
Hopefully these articles will remind us to remain vigilant in 2012, and understand that some trends may require strategic changes each time we discover job leads. I urge you to keep your ear to the ground as people voluntarily leave positions due to underemployment. Happy New Years to each, and stay informed.
I am a Career Consultant, Host & Producer of "The Voice of Job Seekers podcast, and Founder of the blog by the same name. I help and inspire unemployed, underemployed, and under-appreciated job seekers by finding and creating a voice to be heard by heard employers. I see too many voice-less resumes, cover letters, LinkedIn profiles, and other attempts people attempt to market themselves. In addition to the awards, my advice has appeared in major career sites such as AOL Jobs, You Tern, CAREEREALISM, Come Recommended, and Brazen Careerist. Your Voice. Your Brand. Your next opportunity is waiting to hear from you.