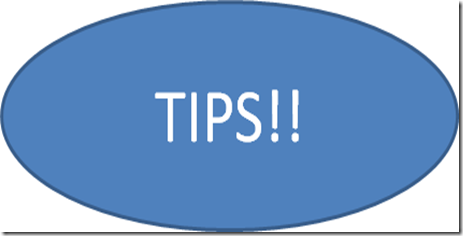 I decided to collect and post 5 tips and posts this week that could make a small difference in any job seekers quest to improve his or her job search.  These are all useable ideas and suggestions. Hope any of these are helpful, feel free to pass it on.
5 Reasons Your Online Profile Is More Valuable Than Your Resume 
GlassDoor.com, Heather Huhman
We have discussed blogging during your job search and its brand benefits. The other question that your online profiles may not answer is your ability to show your best attributes through non-participating or lack of responsiveness. That box that has a head, that's where your picture goes.
JibberJobber.com, Jason Alba
Most of us know the cliche "Who do you know?" But the suggestion that few ask the more difficult and perceivable intrusive question, "Who do you know in the industry/company that can get me closer to a hiring manager?" is the magic question.
Choose Your Words Carefully During Your Job Interview
Job, Skills and Advice
What you say during interviews includes how you say it and the tonality of the delivery. Not only should a candidate pay attention to the words and meaning, but also to how it is said and what could be insinuated. If you are asking a question, is it asked as a request or demand? Or, when you answer a question is it with pleasure or disdain. These are serious considerations when what you say is the center of attention.
This site can help you reach staff people inside your target company that can help you reach key people such as, hiring managers or staff who can provide additional information about the company and culture. There is a premium service you can pay into (perhaps less than a full LinkedIn membership), but the most important part of the service is free. As you contribute updated information to a member, you receive a contact at no cost. This "who" you know is important as the "what" you know initially.
There are times when people need help or want to give help without bereaucratic hassle so by calling 211 or using the online service, users can find (if available) food pantries, employment leads, or shelter. There is not a call center to service in every city, but it is a helpful service wherever there is one.
I am a Career Consultant, Host & Producer of "The Voice of Job Seekers podcast, and Founder of the blog by the same name. I help and inspire unemployed, underemployed, and under-appreciated job seekers by finding and creating a voice to be heard by heard employers. I see too many voice-less resumes, cover letters, LinkedIn profiles, and other attempts people attempt to market themselves. In addition to the awards, my advice has appeared in major career sites such as AOL Jobs, You Tern, CAREEREALISM, Come Recommended, and Brazen Careerist. Your Voice. Your Brand. Your next opportunity is waiting to hear from you.