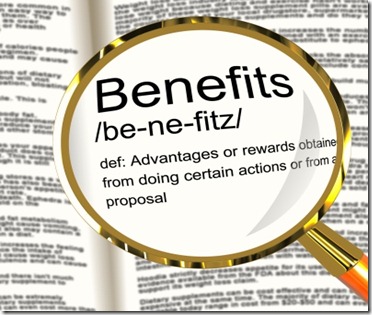 I have reviewed a number of resources to help proofread resumes or any job search document such as cover letters or email. Since typos, grammar, and spelling can decide your chances of nabbing an interview and positively branding yourself, these tools will bring you closer to perfection.
I have found 2 other resources both online that offers more choices to help you proofread any document, including your resume. Although I recommend finding someone who proofreads well, both of these could be used in conjunction with two keen and knowledgeable eyes:
Paper Rater is a FREE resource for proofreading various types of writing such as research, article drafts, and casual. It is unique because of how you can set up the proofreading guidelines according to grade level from 1st to post doctoral. It allows you to set a plagiarism setting to determine originality. There is a box for citations but overall does not say what standard such as APA or MLA styles are used.
I gave it a go with a couple of blog posts that I completed for future additions. I have checked the box for 10th grade just  to see if there was a suggestion or a difference maker. The post was about 500 words long, no citations or links at the time, with and without checking the originality checker. Although the originality took longer, it was hardly noticeable.
Fortunately, I had very few errors, and in fact, picked up and highlighted the word "bodacious (shout out to Snuffy Smith)." Another interesting thing that may help some is how the grade level works for vocabulary. The checker states that my "vocabulary sophistication" was below my grade level (again this was the 10th grade measure), and that I should use more sophisticated words for clarity.
PaperRater is entirely free now and is entertaining adding a Premium service. This service could be improved by adding a résumé formatted checker that would embrace the unique Word formatting.
Previous Posts about editing and proofreading:
Perfect It 2
PerfectIt 2 is allows you to test drive it for 30 days without giving your payment information. Like Grammarly (although not as expensive) charges for regular use ($49). Unlike Grammarly and many others, you can download the trial. I tested it on a client's resume and was more detailed than I thought. As stated below, it will check the complete document first removing comments and Word corrections: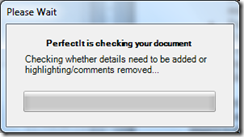 Then it will note changes in 23 different places. Then it will list the suggestions and asks you permission for the suggested changes.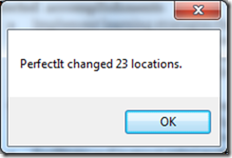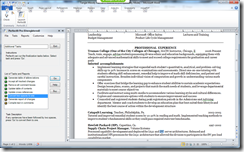 Once the changes take place a report is produced of corrections PerfectIt made as seen below: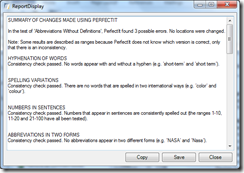 Overall, PerfectIt corrects in much detail. The cost of a year membership, I think its one of the great bargains you can find.
Are there suggestions that I didn't think of. What are yours? Please comment below.
image credit: FreeDigitalPhotos.net
I am a Career Consultant, Host & Producer of "The Voice of Job Seekers podcast, and Founder of the blog by the same name. I help and inspire unemployed, underemployed, and under-appreciated job seekers by finding and creating a voice to be heard by heard employers. I see too many voice-less resumes, cover letters, LinkedIn profiles, and other attempts people attempt to market themselves. In addition to the awards, my advice has appeared in major career sites such as AOL Jobs, You Tern, CAREEREALISM, Come Recommended, and Brazen Careerist. Your Voice. Your Brand. Your next opportunity is waiting to hear from you.